Experience The Difference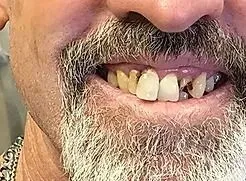 Before
After
Personalized dental care
Dental care means different things to each individual depending upon their needs. For the fortunate many, it means brushing your teeth, flossing, having your teeth cleaned by a hygienist and a dental exam twice a year. Once in a while, perhaps even the inconvenience of a cavity must be tended to.
Imagine for a moment however, that due to genetics and poor or even no dental care at younger ages, that you're not as well-off. There are some people who are unlucky enough to have teeth that are so unhealthy and unattractive that they hinder every aspect of their life, choice they make, and can even be life-threatening.
Unhealthy and diseased teeth or gums have been diagnosed as the first cause of many significant cases of permanent cardiac damage, with bacteria serious enough to have even caused deaths. So healthy teeth are simply not optional – they are literally life savers.
Imagine the countless people that have spent years suffering terribly with low self-esteem, covering their mouth with their hand to hide their teeth, avoiding family and social events, and even being passed up for certain careers, because of the appearance of their teeth.
Dr. Gordon E. Krueger and his expert, professional and friendly staff, are known as the most qualified team to treat all aspects of your dental needs from the health of your teeth and gums to the appearance of your smile. Whether it involves minor repairs or full-mouth restorations, the difference that the Dr. Krueger dental team can make for a person's teeth and the effects are literally life-altering. Patients that have spent decades suffering terrible embarrassment have left the office sometimes hugging the staff, crying and smiling into every mirror on their way to the door.
Outside, you know that the sun feels differently on their face as they stroll proudly to their car, to rush home, to work, to the shopping center, or to the next family event, either way, smiling more brilliantly and beautifully than they ever have in their life.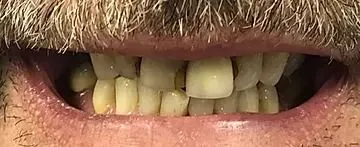 Before
After